What is THE LIZZYs?
---
A Virtual Place for Real
Thoughts and Feelings
---
THE LIZZYs is a series of animated stories about an observant young girl named Lizzy. She lives with her strange (but loving) family in an elegant (but slightly tacky) apartment in New York City. In the course of her normal, every day life, Lizzy finds herself encountering some of life's major issues... The stuff you think about, but don't always talk about, because nobody else talks about IT to you. (Which, by the way, is exactly what you CAN think and talk about right here on this web site--see The Blue Notebook.)

Lizzy's brother's real name is Gordon, but Lizzy calls him "Scorn Boy" because he doesn't like her and always frowns and looks scornful when he sees her.
He and Lizzy read newspapers and see news stories on TV about all the horrible things that happen to people in the city--especially at night. So Lizzy worries when her parents go out at night--which they often do. But she doesn't tell them because she doesn't want to worry them. Lizzy calls her mom "Big Red," since she has red hair and seems big, even though she's quite small for a grown-up. And her father is "Daddy Zorro" since she admires masked men who save people.

Lizzy just wants to make people happy. But the Lizzy she's becoming in order to try to please everyone else is not the real Lizzy. Is she stuck with her? (see More Stories)

---
Who is THE LIZZYs For?
---
The grown up in every kid,
The kid in every grown up,
Anyone who's ever loved a reptile...

---



Speak your mind at The Blue Notebook
This month's Topic: I WISH THIS FEELING WOULD GO AWAY. Did you ever have a feeling that was really uncomfortable and you didn't know what to do about it? Well now you do. Tell us about it in a story, a song, a picture.


A Note to Kids -- You know a lot more about what's going on than most adults think you do. But like Lizzy, you might need some help identifying what you think and feel and then articulating it. Viola, The Worry Doctor and The Blue Notebook Club are all here to provide "virtual" help. Though eventually you'll probably want to move on to a REAL person or two.

TALK TO US!
We want to hear from you.
Suggest TOPICs for The Blue Notebook, ideas for our "What's Your Story" contest or send us email and just let us know what you think about all of this.
What is The Blue Notebook? An online place where we can post the thoughts and feelings (in words or images that you e-mail us) about the thoughts and feelings in Lizzy's stories. Or you could just see what other people have to say."Make a Face" to show what a particular feeling might look like. Or suggest a new topic to talk about. Afraid? Psyched? Angry? Depressed? The Blue Notebook is a place where you can take a good hard look at IT.




Awards, Press and What People Are Saying

---

"Your site is wonderful! Beautifully designed, soothing, a visual and auditory delight. Good for the soul. I wish I had someplace like this to go when I was a little girl." --- e-mail we got from Nancy Waks,
Senior Web Editor of Children's Television Workshop Online

Accessmagazine.com gave the NGA Kids site its highest rating and said "The most innovative part of the site is an interactive journey through the Gallery's Sculpture Garden with cartoon characters Lizzy and Gordon."

Lizzy is featured in Terry Borst and Deborah Todd's "Alt. Screenwriters" column in the October issue of The Writers Guild Journal, "Written By"

Susan McLester's article on "Girls and Technology" featured The LIZZYs in the October issue of "Technology & Learning."

Stacy Horn of Echo, listed THE LIZZYs in "my favorite bookmarks" column in "Fast Company" magazine.

Originally created as a CD-ROM prototype,THE LIZZYs won The New Talent Pavilion at The Milia Festival in Cannes, Frances in '95 and Honorable mention at New Voices New Visions.

Two LIZZYs' stories are also showing at The Kids Wing of
The Museum of Web Art.




World Village named The Lizzys Family Site of the Day


THE WORRY DOCTOR IS IN


To help "shine a little light on the subject," The Worry Doctor (doctor of feelings) drives around in his 'worry mobile,' answering your clicks for help. Or you can just click on the button below, marked "Worry Doctor" if you need him.


---
Don't miss "Lizzy and Gordon Visit the Sculpture Garden!" our new online animated adventure for the National Gallery of Art (Washington D.C.) http://www.nga.gov/kids/lizzy.


When Lizzy's brother, Gordon, is given a homework assignment to write about art, their mom takes both kids to the Sculpture Garden at the National Gallery for an "artistic adventure." But Gordon, who believes himself clueless about art, is more interested in finding the cafeteria. And Lizzy is not in a good mood. Until the art starts to take on a life of its own.

---
VIOLA SINGS THE BLUES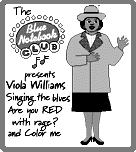 Whether you're "Red with rage, " "Green with Envy," or down with a case of "The Blues," you can catch Viola's act at The Blue Notebook Club. It's a cool hot spot to hang out with your thoughts and feelings. Or you can write in The Blue Notebook. Says Viola: "Honey, I'm always here for you."

---
THANK YOU
THE LIZZYS lives on Echo's server, and at Fusebox.com. Thank you Stacy Horn,Laura Michaels & Brian Thatcher.
WHO IS BEHIND
THIS SITE?